Welcome to the web site of Mellor Archaeological Trust
Diary Date : Fact & Fun Day, Roman Lakes, Sunday, September 8th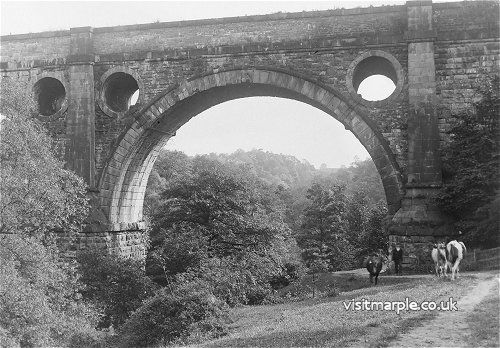 A view of Marple Aqueduct from the direction of Upper Water Meetings Farm.
---
A Mellor Mill Weeding Party in early August 2019
---
Sunday September 8th, 2013 : Fact & Fun at the Roman Lakes

2013
The long wait was over for those working behind the scenes to create the Mellor Mill Heritage Day, at the Roman Lakes. Weather forecasts had been watched as the day drew near, early in the week Sunday was predicted to be wet and windy, clouds of despair began to grow, but lifted as the day approached, and fine weather was forecast. Volunteers scanned their print-offs, when would they be needed and where? Various jobs had to be done, pop-up museum, face painting, finds washing, beer tent, bricks and nails stall and more. Gazebos erected, fingers fiddled with fittings, tables filled, chairs found and sat upon. The sun managed to break through the clouds, the good weather and the show had begun.
The flyers and posters had given some idea of the day ahead for those who came into the valley, on this Sunday in the early years of the 21st. century. But what awaited the mill hands as they traipsed to work in the gloom of an early morning two hundred years before, for their six oclock start to a fourteen hour day?
1813 or thereabouts
The workers had to accept long hours, performing stressful, repetitive work in return for a subsistence wage. To work cotton efficiently it was necessary to maintain a high temperature, above 20°C (68°F) with high humidity (up to 85%), obtained by keeping all One of Nine Tourswindows tightly shut. There was little ventilation in the Mill. This meant the workers inhaled the cotton dust throughout the day and accumulated on their chests leading to the incurable lung disease, byssinosis. It is believed that the workers of the Mills, of the time, worked an average 14 hour day with perhaps 80-90 minutes of breaks including one hour at dinnertime...........
---
Where is Mellor?
Now on the edge of Stockport in Greater Manchester, Mellor's location is historically important. 
On the south-west and north-west, it is bordered by the two great rivers, Goyt and Etherow, which drain the SW Peak District and join to form the Mersey at the lowest point of Mellor.
On the east, a high ridge overlooks a valley, behind which is Kinder Scout. Three spurs, separated by brooks, project west from the ridge.